Bigg Boss 2022 Season 16 Contestants – Finally, it's that time of year when disagreements draw attention. Yes, you guessed it correctly, we're talking about Bigg Boss 2022 Season 16.
There is humor, intrigue, drama, and controversy aplenty on the Bigg Boss Season 16 show. Because of This high level of entertainment, the Bigg Boss television program has a high TRP rating.
We may gauge the popularity of this program by the fact that numerous Bollywood actors have Competed in Bigg Boss.
The Bigg Boss experience also allows the celebrity's actual nature to emerge, as opposed to just how they present themselves to the public.
Bigg Boss Season 16's theme is "Upside Down," thus everything will be the opposite of what it was in the previous seasons.
The Bigg Boss producers look for contenders who can keep the audience engaged each year. No different this time.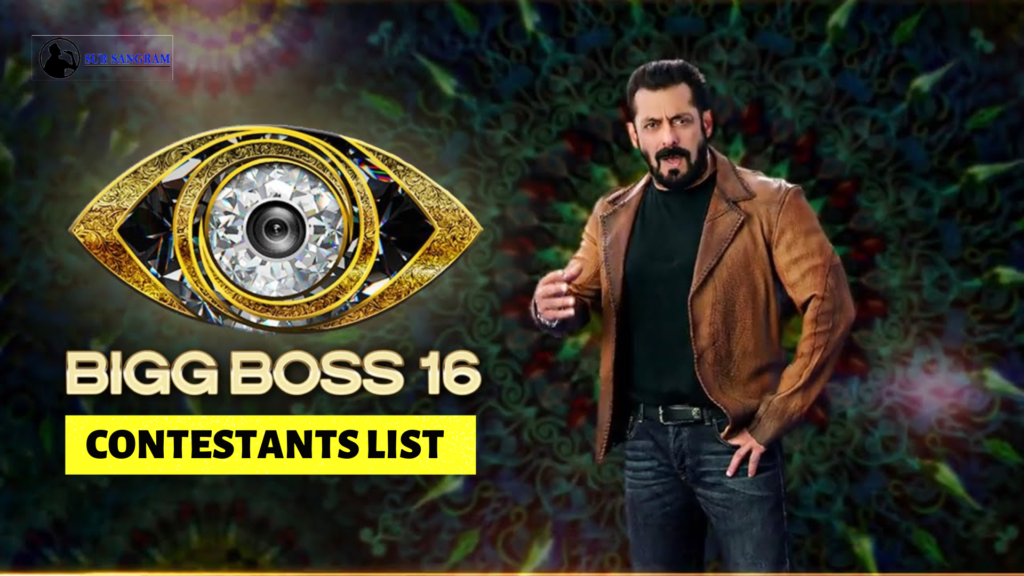 Bigg Boss 2022 Season 16 Contestants
Viewers will watch well-known celebrities, including some with contentious pasts, on Bigg Boss 2022 Season 16.
Here is a sneak peek at the Bigg Boss 2022 Season 16 reality show contestants list, its telecast and timings, and more.
Bigg Boss Season 16 Contestants list
Bigg Boss Hindi 2022 cast as usual is a hefty one like every year. Bigg Boss Season 16 contestants are all quite popular in their own fields and have made their mark in the entertainment industry. Below is the list of 16 outstanding and competitive contestants.
S.N
Contestant
Profession
Status
1.
Nimrit Kaur Ahluwalia
Television actress and model
Competing/Captain
2.
Abdu Rozik
Singer and boxer from Tajikistan
Competing
3.
Ankit Gupta
Actor
Competing
4.
Priyanka Chahar Choudhary
Actress
Competing
5.
MC Stan
Rapper, Music Producer
Competing
6.
Archana Gautam
Actress, model, Beauty pageant
Title holder, and politician
Eliminated
(10 Nov 2022)
7.
Gautam Singh Vig
Actor
Competing
8.
Shalin Bhanot
Actor
Competing
9.
Soundarya Sharma
Actress, model, and dentist.
Competing
10
Shiv Thakare
Reality TV star.
Winner of Bigg Boss Marathi (Season 2)
Competing
11.
Sumbul Touqeer Khan
Actress
Competing
12.
Manya Singh
Model and Femina Miss India 2020
Runner-up
Eliminated
(24 Oct 2022)
13.
Gori Nagori
Dancer
Eliminated
(12 Nov 2022)
14.
Tina Datta
Actress
Competing
15.
Sreejita De
Actress
Eliminated
(15 Oct 2022)
16.
Sajid Khan
Director, filmmaker, comedian,
And television presenter
Competing
We will keep updating the list about the status of the contestants as and when they get eliminated.
BBH Telecast Timing 2022
On October 1, 2022, Colors TV and Voot began airing Bigg Boss 2022 Season 16, which has already made a splash on our television screens.
The broadcast times are:
Monday through Friday: From 10:00 p.m.
Saturday and Sunday: From 9:30 p.m.
Repeat Telecast: Monday through Friday 2:00 p.m. and 12:00 A.M.
Read More – Bigg Boss 2022 Elimination Season 16 And 1st week Nominated Contestants
Bigg Boss 2022 Season 16 Host
Bigg Boss Host and Salman Khan have become a synonym. For the 13thtime in a row, Salman Khan is once again hosting Bigg Boss 2022 Season 16.
No Bigg Boss fan can picture the show without him as the presenter. Bigg Boss is incredibly intriguing interesting, thanks to Salman Khan's charisma and his captivating hosting abilities.
With that said, many things have changed this time around, notably "Weekend Ka Vaar," and so there is a twist with the hosting of Bigg Boss 2022 Season 16. Salman Khan will now host the show on Friday and Saturday.
Shekhar Suman, a well-known television personality, will be seen presenting the contentious reality competition Bigg Boss 16 on Sunday at 9:30 p.m. in Salman's absence.
Bigg Boss Hindi Judges Name 2022
The Bigg Boss Hindi format calls for no judges on the program. Only the other contestants and the audience will decide who leaves the Bigg Boss house.
Contestants are nominated by their housemates for eviction each week. Votes from the audience are cast in favor of the contestants whom they want to keep from being eliminated.
Per viewer, there is a daily limit of ten votes. A contender loses if they receive the fewest votes. If a competitor breaks the rules or withdraws due to a medical emergency, they are removed from the competition.
Bigg Boss 2022 Release Date
The Grand Premiere of Bigg Boss 2022 Season 16 happened on October 1, 2022, at 9:30 p.m. on Colors TV. The show is already in its first week and the contestants are already in the elimination round.
✅ News – New Captain of Bigg Boss
The new captain of the Bigg Boss 16 house is Sajid Khan (👮).
Stay tuned for all the latest News and updates about Bigg Boss 2022 Season 16.
There was no elimination this week in Bigg Boss Season 16 on the 28th and 29th of October 2022. While Salman Khan made fun of Abdu's fake eviction.