ABOUT THE COMPETITION of SINGING KE SUPERSATR
Singing Ke Superstar is an Upcoming Bhojpuri Singing Reality Show To Be Aired Soon on National Television. Aiming to provide a platform to the aspiring and amazing singers of our country, Singing Ke Superstars is here to give you a breakthrough into the world of Bhojpuri Films & Singing Universe.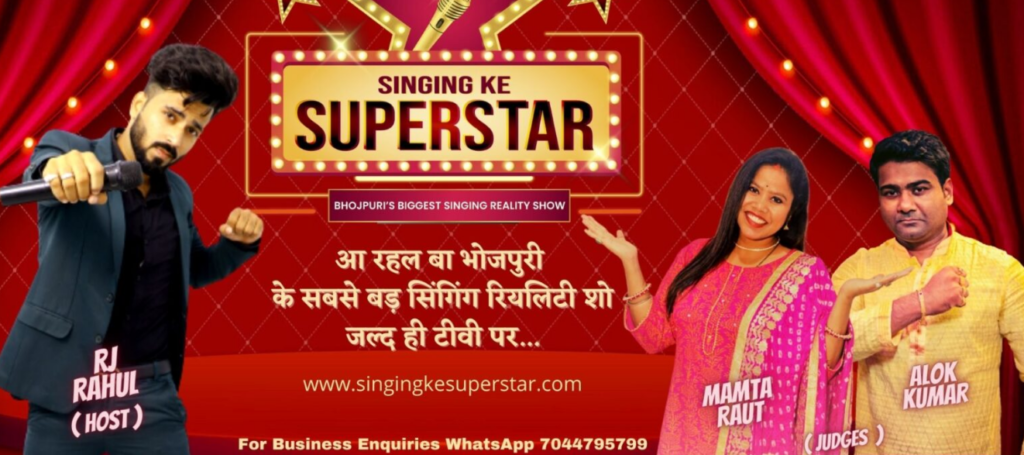 Judged by the most talented and amazing singers of the Bhojpuri Music Industry, having various awards and recognition in their name, you can be the next person to stand and sing with them in their next album!
If you think you have the voice to be the next big thing in the Bhojpuri Films and Music Industry, time has now come for you to shine! Register yourself today and be part of the biggest Bhojpuri Television Reality Show.
JUDGES OF SINGING KE SUPERSATR
ALOK KUMAR
BHOJPURI SINGER & ACTOR
Alok Kumar Is a Superstar Bhojpuri Singer & Actor. He Was The Winner of The First Season Of Mahua TV's SUR SANGRAM. Judge, Alok Kumar Has Sung More Than 5000 Songs In Many Blockbuster Bhojpuri Films & Albums. We Are Very Glad To Announce That He Will Be Judging Our Show Singing Ke SuperStar Season 1.
MAMTA RAUT
BHOJPURI FOLK SINGER
Mamta Raut is a Renowned Folk Singer of Bhojpuri language. She is a Popular Playback Singer in Hindi & Bhojpuri Cinema. She is Also The Winner Of SUR SANGRAM Season 2. We Are Very Glad To Announce That She Will Be Judging Our Show Singing Ke SuperStar Season 1
VINAY BIHARI
ACTOR, SINGER & FILM DIRECTOR
Vinay Bihari is a legend himself with over 200+ Films in the Bhojpuri Music Industry. He has also produced and acted in some remarkable Bhojpuri songs that has millions of views across every social media platform. Vinay Bihari Ji is an actor, Singer, Film Producer, Director and has a Political Influence as well. We are glad to announce that he will be welcomed as a Grand Judge in Singing Ke Superstar Season 1.
RJ RAHUL SINGH
SHOW ANCHOR
RJ Rahul Singh is an award winning show anchor who has never failed to show his awesome anchoring skills with his charm and humor. With his presence in over 1500+ shows, Rahul has worked with zeetv , &tv , zee etc bollywood , Disha , ishwar , and many more. He is currently working in shows like India's Talent Fight, Best Talent of India, Naacho Dil Se. We're glad to announce that he will be the Master Anchor for our show Singing ke Superstar.