Gordon Ramsay biography – When we think about a multi-Michelin-starred chef, one of the names that come to mind is Gordon Ramsay. Next-level chef Gordon Ramsay is one of the finest chefs in the world who has won many accolades in the field of culinary art.
It is the highest honour to become a Michelin Starred Chef and Gordon Ramsay holds seven Michelin Stars. This itself explains why Gordon Ramsay has become the best-known and most influential chef in the world.
Gordon Ramsay is a British chef, television personality, restaurateur, hotel critic, food critic, and writer. He has highly acclaimed restaurants and cookbooks under his name.
He is best known for his frankness, use of profanity, fiery temper, and strict attitude that he openly showed in his television appearances on cookery shows.
Gordon Ramsay biography
Biography of Gordon Ramsay Next Level Chef – Gordon Ramsay was born in Johnstone, a small Scottish town, on November 8, 1966.
Then, at the tender age of nine years, Ramsay moved from Scotland to England in Stratford-upon-Avon and grew up there. During his growing-up years, he worked at an Indian local restaurant as a pot washer.
He loved playing football and had dreamt of becoming a footballer one day. He played so well that he even got selected for under-14 football, but because of his recurrent injuries and one serious knee injury, he was forced to say goodbye to his football career.
The Cooking Journey
Around his teenage years, Gordon Ramsay developed an interest in cooking, and at the age of 19, he decided to pursue culinary education and got himself enrolled to study hotel management at North Oxfordshire Technical College.
In the 1980s, Gordon Ramsay moved to London and started polishing his culinary skills at Harvey's Restaurant under chef Marco Pierre White, and at La Gavroche under chef Albert Roux.
At the very young age of 23, Gordon Ramsay travelled to France to work with Michelin-starred chefs Joel Robuchon and Guy Savoy.
After returning to London in 1993, Gordon Ramsay became the head chef of Aubergine and went on to win two Michelin stars. Gordon left Aubergine on a bitter-sweet note, in hopes of opening his restaurant.
Gordon Ramsay went on to open his restaurant in 1998, the renowned Gordon Ramsay. Within a short period of three years, this restaurant won its third Michelin star.
This restaurant made its mark in the world and was rated as one of the best restaurants.
After this, there was no looking back. He went on to open Petrus and within seven months earned a Michelin star.
He opened restaurants that were a great success and won him many Michelin stars. Some of them are La Noisette, Savoy Grill, Maze, and the Boxwood fé.
Going International
With growing success and popularity in 2001, Gordon Ramsay opened his first international restaurant, Verre, in Dubai, United Arab Emirates.
In New York City, he opened Gordon Ramsay at the London and Gordon Ramsay au Trianon in Versailles, France. Later on, he also opened restaurants in places such as Australia, Japan, and South Africa.
Awards and Accolades
His restaurants over the years have won him many Michelin stars and were also voted Top Restaurant in the UK. He was appointed Officer of the Order of the British Empire (OBE) by Queen Elizabeth II.
Apart from these, Gordon Ramsay has many awards in his name in the restaurant and hospitality field.
The Television Personality
The television appearances of Gordon Ramsay took his popularity to another level. His attitude, fierce temper, bluntness, and use of profanity he openly showed on television also make him popular. He has also presented and hosted many competitive cookery shows like Hell's Kitchen, Ramsay's Kitchen Nightmares, and The F Word.
These were all the British versions. He presented the American versions of Hell's Kitchen, Kitchen Nightmares, Master Chef, MasterChef Junior, Gordon Behind Bars, Hotel Hell, Gordon Ramsay's 24 Hours to Hell and Back, and last but not least Next Level Chef.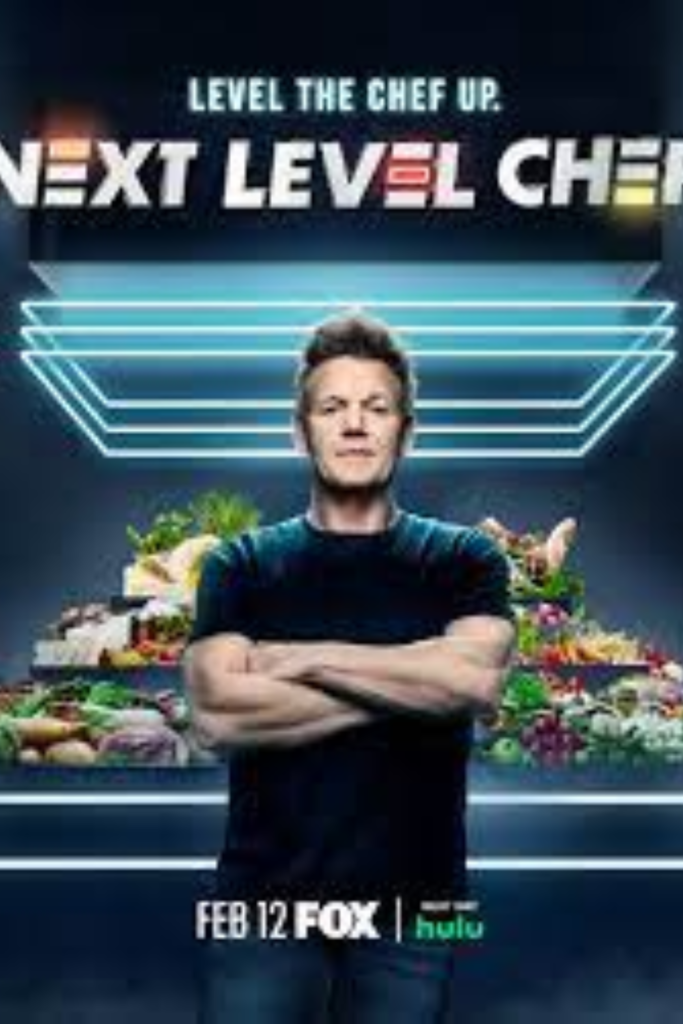 Gordon Ramsay Wikipedia –
| | |
| --- | --- |
| Born | November 8, 1966, in Glasgow, Scotland, UK |
| Birth Name | Gordon James Ramsay |
| Height | 6′ 2″ (1.88 m) |
| Spouse | Tana Ramsay (21 December 1996 – present) (5 children) |
| Children | Megan Ramsay |
| | Holly Ramsay |
| | Jack Ramsay |
| | Matilda Ramsay |
| | Oscar Ramsay |
| Trade Mark | Heavy use of bad language in the kitchen |
| | Multi-furrowed forehead |
| | Pencil behind the left ear |
| | Estuary English Accent. |
| | Fiery temper |
| | Blonde hair |
| | Cutting, vicious insults to people who don't know what They are doing or refuse to admit to mistakes |
Gordon Ramsay Biography Wikipedia / Gordon Ramsay Wiki
Gordon Ramsay Next Level Chef: A Unique Cookery Competition
Out of all these competitive cookery shows, Gordon Ramsay's new show Next Level Chef is a unique kind of show in the cookery competition category.
Gordon Ramsay, Next Level Chef's air date for the first season was January 2, 2022. Gordon Ramsay, Next Level Chef's air date for the second season has been announced as February 2023.
The format of this show is very unique and that's what makes it different from other cookery shows. Gordon Ramsay's Next Level Chef trailer helps you explain the format very well. You can watch this on YouTube and the FOX channel.
Gordon Ramsay Next Level Chef streaming is currently available on https://www.fox.com/next-level-chef/ where you can watch all the episodes of the first season. The Gordon Ramsay Level show can also be viewed on FuboTV, Hulu Plus, Amazon Prime Videos, and Tubi TV.
Talking about the contestants of the show, Gordon Ramsay's Next Level Chef contestants can be anyone from home chefs, to the best line cooks, food truck owners, and social media stars who take immense pleasure in preparing tongue-tantalizing dishes.
Gordon Ramsay Next Level Chef contestants then compete with each other with the ultimate goal to become the next superstar in the culinary world.
Gordon Ramsay Next Level Chef is a promising platform to outshine your skill in cooking great food. If you want that your talent should get recognized, then you should try your luck and participate in Gordon Ramsay Next Level Chef 2023.
As per the recent information, Gordon Ramsay's Next Level Chef has been renewed for 2023 the second season. Currently, registrations are going on for the same.
Gordon Ramsay, Next Level Chef's start date is February 2023. So, hurry and register soon! Read our blog on how to register for the Gordon Ramsay Next Level Chef show.
Most searches on Google Gordon Ramsay biography related – Gordon Ramsay young, Gordon Ramsay wife, Gordon Ramsay family, Gordon Ramsay parents, Gordon Ramsay net worth, Gordon Ramsay siblings, fun facts about Gordon Ramsay.
Net Worth of Gordon Ramsay
| | |
| --- | --- |
| Net Worth | $820 Million |
| Annual Income | $90 Million |
| Taxes Paid | $15 Million |
| Cars Owned | 10 |
| House Properties | 13 |
FAQ
Q. Where to watch Gordon Ramsay's Next Level Chef?
Ans- Gordon Ramsay's Next Level Chef is currently being streamed on their official website: https://www.fox.com/next-level-chef/ where you can watch all the first season's episodes. It is also streamed on fuboTV, Hulu Plus, Amazon Prime Videos, or Tubi TV.
Q. How many restaurants does Gordon Ramsay own?
Ans – Gordon Ramsay owns a total of 54 restaurants globally. Out of these 35 are in the United Kingdom, and the rest are in the United States, United Arab Emirates, Australia, South Africa, France, Hong Kong, and Japan to say a few.