Junior American Ninja Warrior is a American sports competition reality show on Universal Kids that Premiered in 2018 Based on the Japanese game show Sasuke.
American Ninja Warrior Junior is a reality show that gives kids with great talent an opportunity to showcase their skills and secure TV audience attention.
Kids applying for this show must first read the rules in full before applying. Information on this post can help you apply too.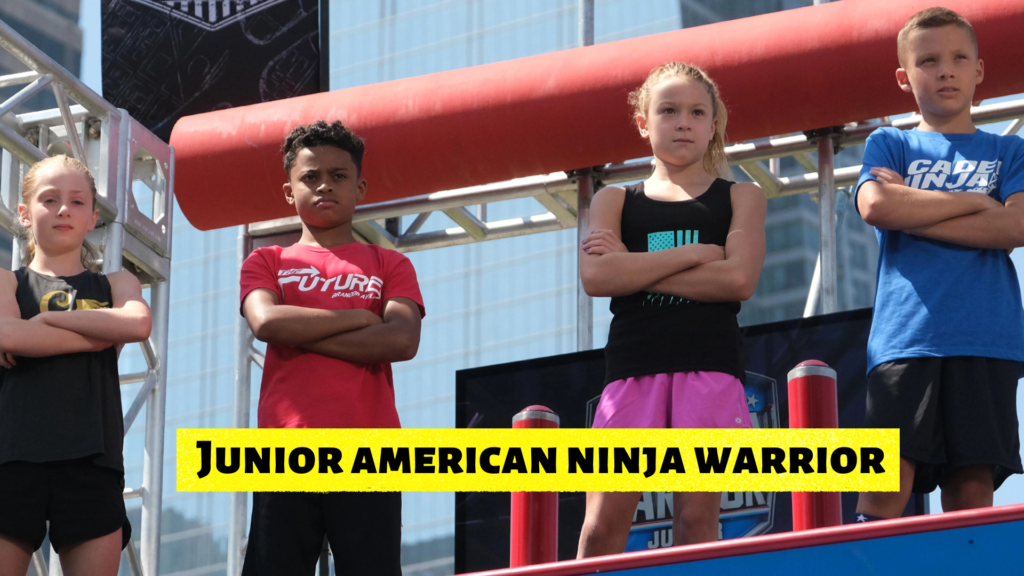 Basic required for American ninja warrior junior
Name of the Show
Junior American Ninja Warrior
Genre
Sports entertainment and Sports Reality
Presented to
Matt Iseman, Akbar Gbaja-Biamila, Laurie Hernandez (Season 1)
& Victoria Arlen (seasons 2–3)
Country
USA
Original language
English
Executive producers
Arthur Smith, Kent Weed, and Matt Cahoon
Camera setup
Multiple cameras
Production Companies
A. Smith & Co. Productions, Tokyo Broadcasting Systems
Distributor
NBCUniversal Television Distribution
Original network
Universal Kids (seasons 1–2) and Peacock (seasons 3)
Picture format
HDTV (1080i)
Original Release
October 13, 2018 – Present
Multi Format of the Show
✅ This reality show is a round-by-round competition.
✅ There are no teams, and each child participates and challenges himself or herself.
✅ The contestants are divided into four age groups: 9+10, 11+12, 13+14, and 14+.
✅ Each age group has four participants, for a total of twelve in each episode.
✅ Boys and girls compete against each other without being separated.
✅ Five runs are played in each age group to determine the winner of the episode in each age group, for ✅ a total of three winners per episode, one in each age group.
✅ The first two runs within each age group are seeding races with no risk of elimination.
✅ The winner of one run faces the loser of the other runners, and the two winners face each other to ✅ ✅ Determine the winner of that episode in that age group.
Entry Requirements for Junior American Ninja Warrior
Both parents and children must be legal US residents.
As of June 2022, children must be between the ages of 9 and 14.
Child competitors must be in good health and able to engage in strenuous athletic activities.
If your child is chosen as a potential participant,
You and your child must sign waivers and release agreements, such as an applicant agreement and release, as well as any other agreement(s) required by the Producer or the Network,
Or any of their licensees, successors, or assigns.
Any invitation to participate is contingent on You and Your Child:
I grant the Producer access to your Child's various social media accounts (as specified herein) if they are not fully visible to the public;
(ii) your child's submission to physical examinations conducted by medical professionals chosen and paid for by the Producer, as well as the medical professionals' certification that your child meets all physical requirements.
You must be willing to provide medical information about your child to the production, and your child must be willing to undergo a medical examination.
How to Register American Ninja Warrior Junior FOR 2024?
✅ You can register for the show by going to the channel or event's official website.
✅ After visiting the website, simply locate and click on the "Register" link.
✅ Then, carefully read the terms and conditions.
✅ Participants must complete the form with information such as their name, father's name, address
✅ contact information, parents' information, email address, and other pertinent questions.
✅ Parents or Legal Guardians should include a clear digital photo of their daughter, son, or legal ward (Child) as well as a VIDEO with their application.
✅ Your child's video must be between 2 and 3 minutes long.
✅ You must also upload photographs and videos as directed.
✅ Finally, double-check all of the information and press the submit button.
Mandatory fields for Junior American Ninja Warrior
✅ Name of Participant.
✅ Age of Participant.
✅ DOB (Date of birth).
✅ Address.
✅ Email.
✅ Active Mobile Number.
✅ Gender.
✅ Upload Video.
✅ Upload Images.
Disclaimer: Auditions are free of charge. For more information, please visit the respective official website. We will not be holding any auditions. This information is intended solely for educational purposes.