Canadian Model And Talent Convention – The Canadian Model & Talent Convention (CMTC) is the leading event of its kind in Canada, providing a platform for aspiring models, actors, singers, dancers, and so many other talents to meet with industry professionals from across the country. This year (2024), CMTC is celebrating 29 years!
Held annually in Toronto, CMTC draws attendees from all over Canada, as well as international visitors, making it the perfect place to network and build relationships within the industry.
At CMTC, you'll have the opportunity to participate in workshops and seminars led by top industry experts, attend castings and open calls with leading agencies, and meet with casting directors, agents, and scouts from across the country.
Whether you're just starting out in your career or you're a seasoned professional, CMTC has something to offer everyone. Mark your calendars for May 11 to May 15, 2022, and we'll see you in Toronto!
Who can attend CMTC?
Anyone may audition for Canadian Model & Talent Convention (CMTC), but not everyone who does so will be invited to the convention. Only those who pass the audition are qualified to compete at CMTC.
What is the age range for participating in CMTC?
The minimum age for participating in CMTC is 4 years. There is no maximum age limit.
What are the categories in CMTC?
Following are the 7 categories in Canadian Model & Talent Convention (CMTC) based on age and gender: Child 4-7, Child 8-11, Female 12-15, Female 16-19, Female 20+, Male 12-17, and Male 18+.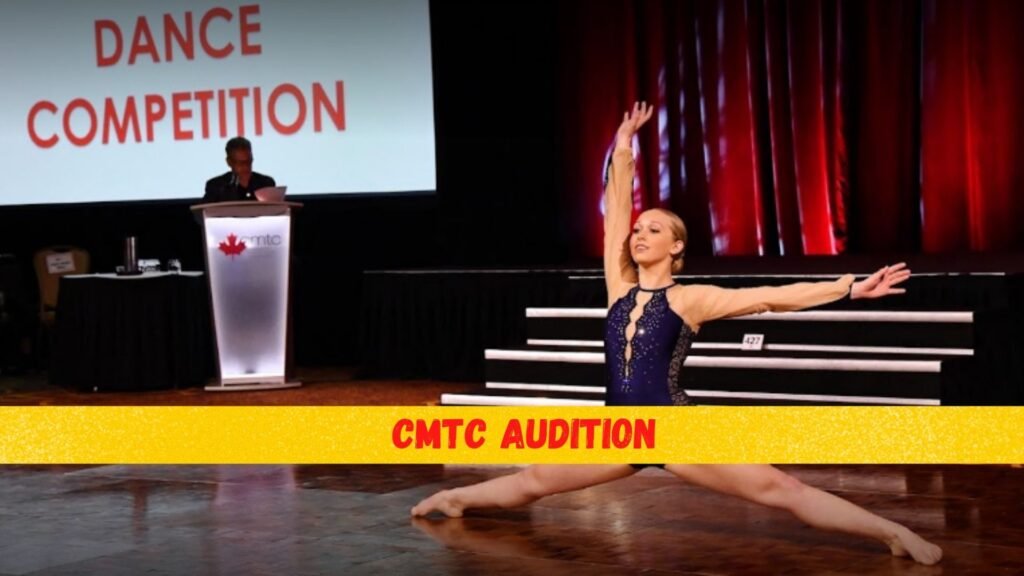 What are the different competitions at CMTC?
Below is a list of competitions available to those selected for participation in CMTC 2024:
Cover
Commercial print
Dance
Improv
Kids casting
Photography Go-See
Runway
TV Commercial
TV/Film casting
Self-Tape
Singing
Swimsuit
What are the dates for CMTC 2024?
Canadian Model & Talent Convention (CMTC) 2024 will be held from Wednesday, May 11, 2024, to Sunday, May 15, 2024.
CMTC Model and Talent Audition 2024
Are you interested in modelling, acting, singing, or Dance?
The Canadian model and talent convention are scouting all across Canada for new faces and future stars for its 29th-anniversary tradition. Complete the form below to reserve your spot for an upcoming online audition.
How to participate in Canadian Model & Talent Convention?
Following is the step-by-step guide on how to participate in CMTC 2024:To participate in CMTC 2024, you have to start by filling out the CMTC Audition RSVP Form and book a spot for the upcoming audition.
You will be placed on the CMTC audition waitlist when you complete and submit the CMTC Audition RSVP Form. When a CMTC audition is scheduled online or in person for your preferred location, you will receive an email notification.
When the audition process starts, you will receive an email about the audition instructions. It is important to keep in mind that auditioning does not guarantee that you will get a chance to participate in the CMTC convention. Only those who pass the audition will go forward in the convention round.
Submit all the required audition material such as video introduction, audition application form, and digitals, before the deadline date and time.
The CMTC team will review all applications and will contact only those applications who have been selected to move forward in the audition process.
The selected candidates will be invited to attend a virtual seminar where they will be told in detail about the different competitions, reps, registration process, and promo codes of CMTC 2024.
The candidates who have passed the auditions will need to register for CMTC 2024 via a link that will be mailed to them.
Latest Updated of Canadian model talent convention –
The COUNTDOWN to #CMTC2024 is ON!
Only 3 weeks until we
finally
see all of our CMTC contestants and visitors in person at Event Check-In on Wednesday, May 11th
Stay tuned for exciting rep, seminar, and workshop announcements as we gear up for CMTC!
Photo: CMTC alumni model Ally Harview by Photographer Leah den Bok
Makeup/ Hair: Taylor Chomsky Stylist:
#StylingbyTiana
#CMTC
#HelpingStarsShine
#RoadtoCMTC2022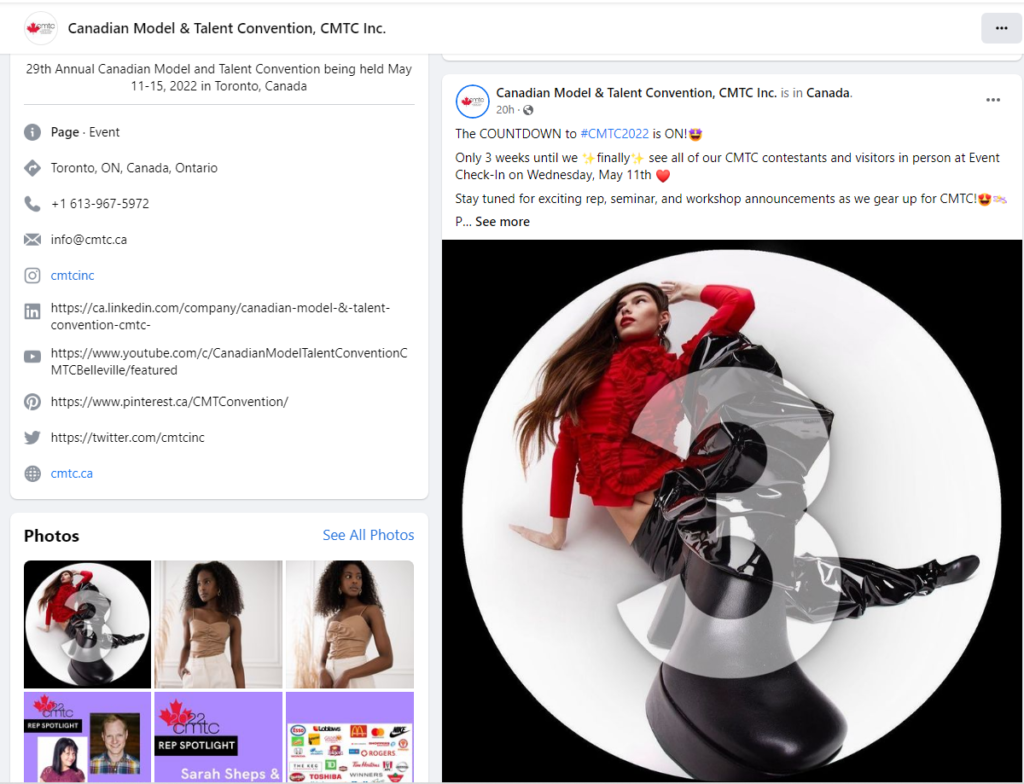 Important Steps of the Canadian Model & Talent Convention (CMTC)
Congratulations on passing the auditions of CMTC 2024. What next? Read on to know: Fill out the CMTC online registration form via the link mailed to you. In this form, you have to select your division, competitions, visitor passes, and/or ceremony tickets.
Sign and complete the registration agreements. The contestant, visitors, and award ceremony guests mentioned in the registration form will receive an email and have to sign and submit the registration agreement, which is compulsory to be able to attend the events.
Submit your program book photo. This should be a headshot that clearly demonstrates your appearance. This headshot along with your contestant number will be used by agents, managers, and casting directors for your call-back. Please submit photos via the Program Book Photo Submission Form. This form can be found in the Contestant Hub. The password for Contestant Hub is sent in your registration confirmation email.
Book a room at CMTC host hotel, the Sheraton Parkway Toronto North. Book as soon as possible to get a room from the Contestant room block at discounted rates.
If you are participating in CMTC through any sponsor or fundraiser, submit your details through the Sponsor submission form in the Contestant Hub.
Pay the registration fees.
Contestants participating in the TV/Film Casting Competition and/or the Self-Tape Competition will need to download and rehearse the pre-selected scripts in the Contestant Hub.
Submit your competition material through the respective submission forms in the Contestant Hub. The material to be submitted for Dance Competition and Singing Competition are:
Self-Tape
Commercial Print Competition Photo
Cover Competition Photo
Singing background music and commentary information
Dance competition music and commentary information
Collect your registration package on Wednesday, May 11, 2024, from 4:00 p.m. to 7:00 p.m. at the CMTC information booth in front of the Grand York Ballroom at the Sheraton Parkway Toronto North.
You are all set to rock now! Give your best, get noticed by the leading personalities of the Modelling and Entertainment industries, and grab a chance to work with them!