Deal or No Deal is an American adaptation of the same-named international game show with Dutch origins. The show has been broadcast on NBC since 2005; however, its present format is significantly different than how it started.
Deal or No Deal game can put a participant into intense pressure situations and it needs great composure and smart thinking to face that situation and come out of it shining.
One can try their luck out if they are keen on being a participant by simply filling out the application form and submitting it through the website. Submitting your application for the game show is a hassle-free process that can be conveniently done online.
Read this article for information about Deal or No Deal casting, requirements, and how to apply for the game show's 2024 auditions.
Table of Contents
About The Deal or No Deal Game
The format of the US version of the Deal or No Deal game is mostly the same as the international version. A participant selects one briefcase from a list of 26 in a format that is mostly the same as the international version of the game. A cash value ranging from $0.01 to $1,000,000 is kept in each bag.
The player eliminates cases as he/she moves along in the game. At the same time, The Banker will occasionally offer him or her a "deal" in which they must accept money in exchange for leaving the game. This is where the player needs to stay vigilant and focused on the goal to win big money.
If the participant rejects each offer, they are offered the option to exchange the initial case they chose for the only one still active at that moment; they are then awarded the payout in the original case.
How Can a Candidate Apply Online for a Deal or No Deal Game Show?
Having said that, there are not any open application forms for submission at the moment. NBC is the official website, which is where one needs to apply for an audition and participate in the game show. However, contestants can apply online by visiting the official website.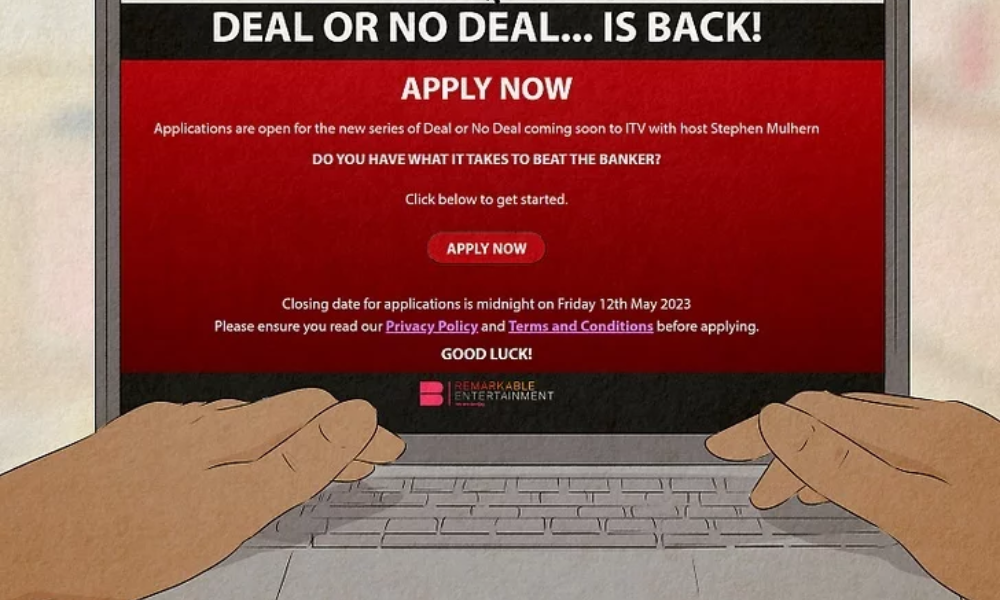 As an alternative, we are keeping an eye on the application information and will update this page as soon as additional information becomes available. So, make sure to come back to this page often.
It is crucial that you follow a few basic guidelines when submitting an online application to ensure that your application is not rejected. These are as follows:
Start by downloading the Application form of Deal or No Deal from the NBC website.
Download and get a hard copy of the application form.
Complete the application with all relevant information and any annexable papers.
You must be sincere in furnishing your information as production houses do appreciate sincere, genuine individuals.
Compile your 5-minute videotape, the completed application, and all of the photographs. Place everything in a package and seal it.
You must also dress properly and adhere to the specified dress code.
Please note that the response time after submitting the form can take over a month. It is crucial to exercise patience during this period.
Applicants must write the below address on the application envelope after completing the Deal or No Deal application form. Please include your name and address on the envelope's top left corner, then send a letter to the subsequent recipient's address:
DEAL OR NO DEAL CASTING
PO Box 1916,
Culver City, CA 90232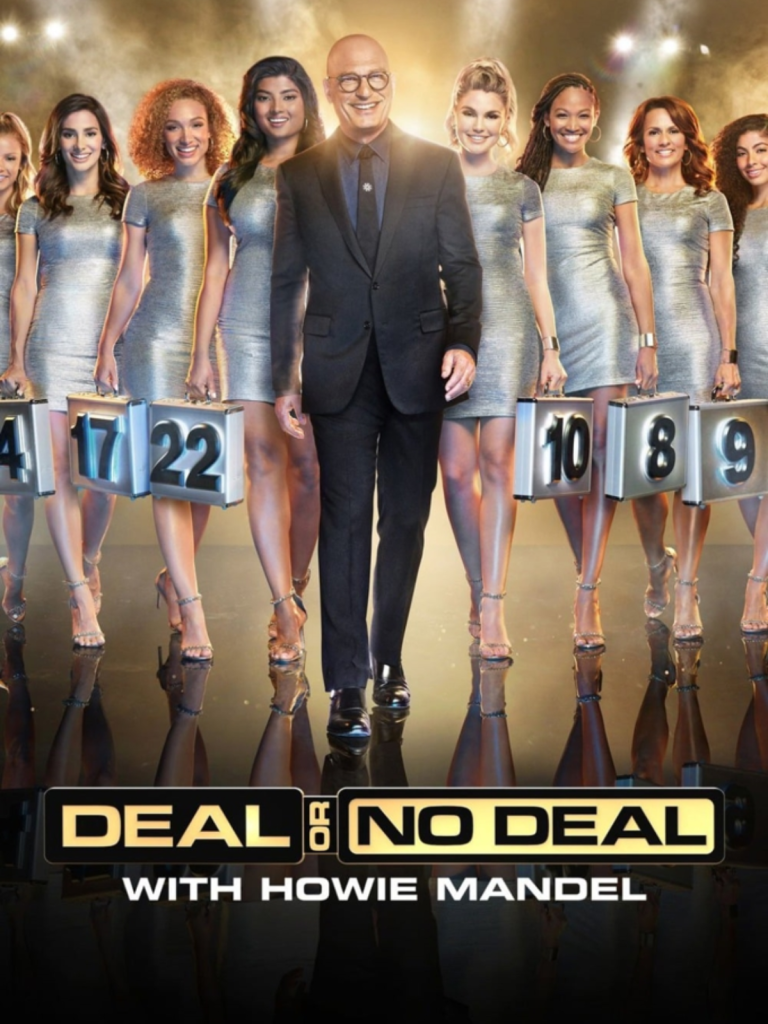 Deal or no deal casting process season 6
Deal or No Deal Casting Process also involves going for an Open Casting Call. Numerous popular television programs, like Deal or No Deal, perform Open Casting Call auditions for hundreds of potential participants at once.
These auditions are Deal or No Deal schedule in many major cities and you can get the schedule and venue information from the official website, i.e., www.nbc.com. The event will last all day, so be ready for that. Make sure you are dressed appropriately in a manner that you stand out from the crowd.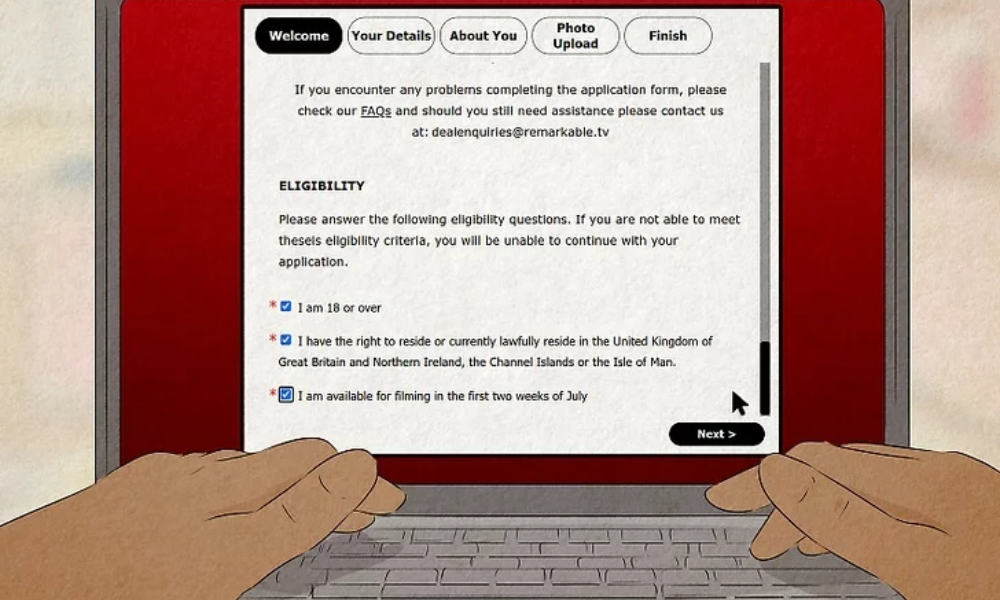 During the casting call audition, be ready to tell your story. Deal or No Deal is looking for contestants with relatable tales. Share information about who you are, your accomplishments, aspirations, and hopes.
Inform the audience about challenges you have faced and how you overcome them. Let your personality and feelings flow through without being afraid to do so.
These kinds of tales are popular among producers. Let it show if there is anything unique about you.
Deal or no deal application schedule date – Season 6
Whether there will be a deal or not in 2024 is still not confirmed. NBC has not yet released any official announcements or statements. Deal or No Deal Application Schedule Date will be confirmed only after the renewal of the series for 2024. Until that time, applicants need to wait and keep themselves updated with any news regarding Deal or No Deal 2024.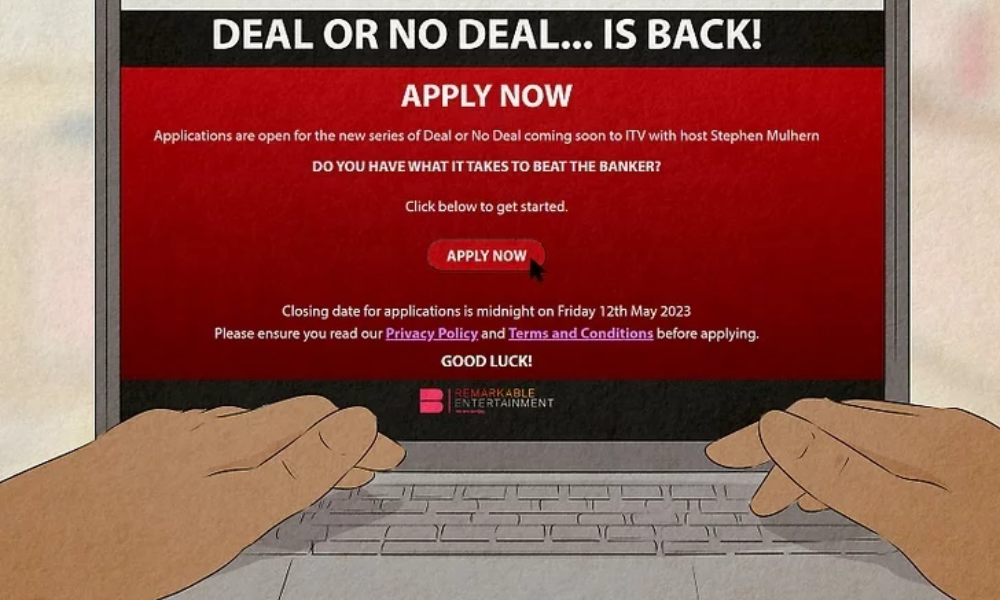 Who are the Contestants of Deal or No Deal 2024?
As of this writing, the game show Deal or No Deal has not been renewed by NBC and there has been no official news about the same from the makers of the show.
It is only after the auditions that we will come to know who are the contestants of Deal or No Deal 2024, so one must hold off until then.
FAQs
Q. Is Deal or No Deal coming back In 2024?
A. As previously said, neither NBC nor the show's creators have provided any formal word on whether Deal or No Deal is coming back in 2024.
Q. How to play the Deal or No Deal game?
A. Details on how to play the Deal or No Deal game are discussed above in the Article. Apart from that, the CNBC gaming app also allows you to participate live.
Simply downloading the game app is all that is required. To win an incredible prize amount, register yourself and participate when the show is airing.
Q. Is Deal or No Deal Real or Fake?
A. Deal or No Deal is not fake. It is a serious game show that chooses the contestants fairly based on viewer reviews.  The game "Deal or No Deal" is fair to the players. Only a small number of players have earned the maximum prize of $1 million, though.
I hope this information helps you with your application. I wish you all the best and hope to see you on TV soon! 🤞🏼