Elijah is a singer and songwriter who hails from the United States. His path to stardom began when he participated in American Idol's 21st season when he became the first contestant to receive the prestigious Platinum Ticket. McCormick, who is from Pinecrest, North Carolina, is a tribute to hard work and dedication.
Elijah's Parents and Age
Elijah McCormick was born in North Carolina on May 19, 2001. He is a 22-year-old American singer and composer as of 2023. Keith Mccormick, his father, runs a landscaping company in Moore and Hoke, Lee's home state. Teshauna Mccormick, who used to work as a front desk receptionist at the Sandhills Children's Center in North Carolina, is his mother.
His two younger sisters' names aren't known to the general world. Speaking of Elijah's education, he attended Pinecrest High School for his initial education. Later, in 2019, he received his high school diploma. He then attended Sandhills Community College to further his education.
His Back story
Singer Elijah McCormick is on the rise, but he almost died. On the day of his high school graduation in June 2019, he was involved in an accident and suffered terrible injuries, shattering his 6-foot frame.
He was then flown by helicopter to UNC Hospitals in Chapel Hill, where the medical staff called him "Golden Child" because of the blonde dye applied to the ends of his hair.
He was put on dialysis and a feeding tube while hospitalized for three months. He eventually underwent ten operations and had to relearn how to walk.
He finally had the chance to perform for the judges in Season 21. He auditioned with a cover of Rascal Flatts' "Bless the Broken Road" during his performance.
Three musicians were up for the Platinum Ticket, and fans and followers could choose who they wanted to win during the American Music Awards in November 2022.
He beat out Matt Wilson and Haven Madison for the Platinum Ticket based on their audition performances and the voting system. His win of the Platinum Ticket was announced on December 5th, 2022, and he received congratulations from the official American Idol Instagram account.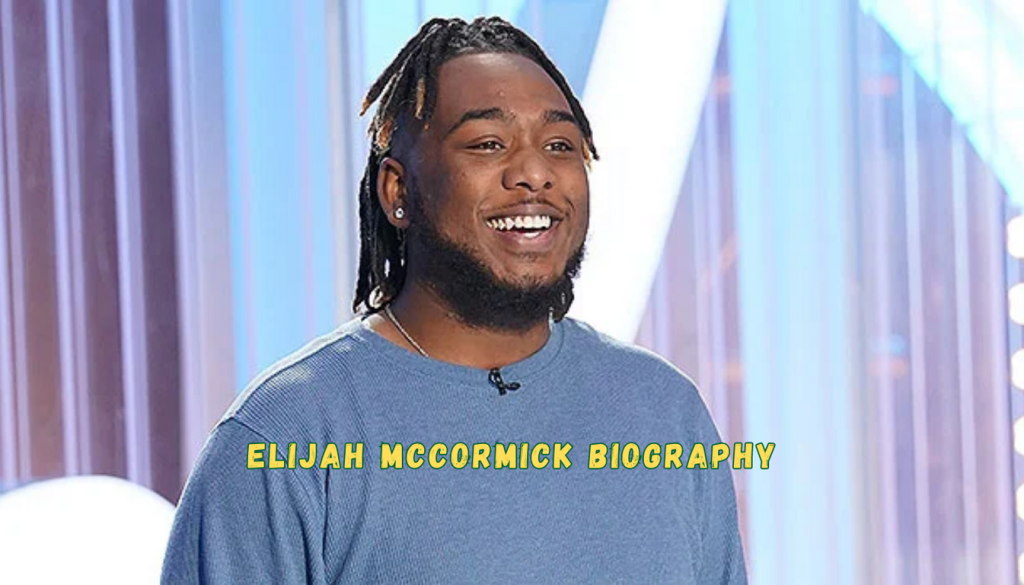 His Personal Life
Elijah's followers want to know if their Favorite American Idol contestant is dating anyone, so many people are curious about his personal life. Our investigation indicates that McCormick prefers to keep his love life private, and there is a possibility that he is covertly seeing someone.
Elijah McCormick's Net Worth
A participant on the reality competition program American Idol 2023 is McCormick. He had previously begun working to support himself in Raeford, North Carolina. Elijah is currently exploring his employment options. His net worth is in the range of $25,000 and $40,000.
More about his Life
He started playing music at his father's family church when he was six.
He began to sing regularly at church and concluded that this was what he wanted to do for the rest of his life. Music started to play a significant role in his life, and he made it his goal to become a well-known singer one day.
The Pilot reports that Elijah is currently a student at Sandhills Community College majoring in coding and medical billing. He simultaneously works as a technician at a nearby eye clinic.
His American Idol Journey
Voting for the Platinum Ticket for American Idol season 21 occurred during the 20 November 2022 American Music Awards. The top three athletes were decided by the spectators in a single day.
For his audition, Elijah gave a moving rendition of Rascal Flatts' "Bless the Broken Road." He acknowledged on stage that he didn't think he'd get this far but now wants to "leave American Idol" with "no regrets.
During his performance, Elijah received a standing ovation from the three judges. They also warmly hugged him. You were meant to be here, Katy Perry thought. That was done on purpose.
The judge was practically in tears as he appreciated Elijah's speech, and he questioned, "It was one of the things in my life that I would never forget. You have returned because God wants you to do something amazing.
Even more so, Lionel informed Elijah's mother that her son is "divine" when he speaks. He was up against Matt Wilson and Haven Madison, who sang "For" and "Arcade," respectively. The R&B performer was named the winner of the Platinum ticket by American Idol via Instagram.
Garnered Support for the singer
Some of his followers feel Elijah won and that his performance was "hazing." About this, one admirer expressed regret. So I'll vote for him said the admirer, and another person endorsed it. Another fan said you are important to God's plan.
"Elijah, your voice sounds like a drug," a supporter remarked. You are quite good at controlling your runs. I feel honoured to hear such a great voice, another admirer said.