Lego Masters, one of the most loved Australian shows, is returning with its fifth season, and we can't keep calm. The show that has been making all the right noises since its 2019 debut has everything packed for its viewers to get hooked.
From showcasing an intense level of skillset, and creativity, builders put on an amazing show for the spectators as they compete for the coveted LEGO Master title.
About Lego Masters Grand Masters 2024
With an endless supply of LEGO bricks, LEGO Masters brings design and imagination to life. Teams of two LEGO fans fight to be named the nation's most talented amateur LEGO builders as they tackle brick-building challenges.
Expert judges and special guests support the builders in each episode as they test their masterpieces and fight for financial awards, the ultimate LEGO trophy, and the prestigious title of LEGO Masters.
Endemol Shine Australia produces "Lego Masters: Grand Masters" (a Banijay Company). The Lego Group and Tuesday's Child Productions' original U.K. formula served as the basis for the television series.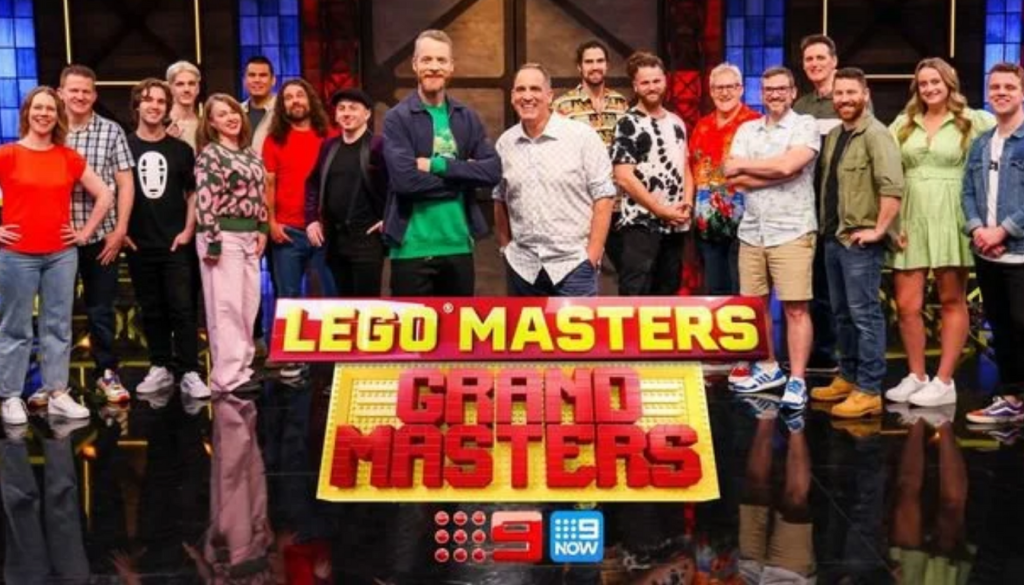 Lego Masters Grand Masters Host
During the 2024 season, Hamish Blake and Ryan "Brickman" McNaught are returning.
"To be invited back this season for Grand Masters, I think solidifies me as the best host that has ever hosted LEGO® Masters Australia, and that is a huge honour," remarked Hamish, being called back for Grand Masters this season.
The adored host, Hamish, comes prepared with an impressive array of costumes and four years of LEGO Masters experience.
In contrast, Brickman is the only LEGO Certified Professional in the southern hemisphere, among other accolades for his work with LEGO.
Australian Lego Masters Grand Masters Judges
Ryan, 'The Brickman' McNaught, will judge the prestige show. The fan favorites, previous defenders, and creative builders will compete for the title while grilling by resident judge Ryan "Brickman" McNaught continues for another season. Be ready to be amazed by some of the most incredible challenges the show has ever featured, both in-studio and outside.
Lego Masters Grand Masters Contestants 2024
Eight two-person teams will battle each week during this season to amaze and display their special talents. Joss and Henry, winners of Season 5, and David and Gus, winners of Season 4, are two among them.
Season 1 Champion A LEGO Bricksmas with Henry The winning team, and Sarah, will collaborate to build their first structures together. They are the only individuals with two awards between them.
The runners-up from Seasons 5, 2, and 3, Alex and Caleb, Andrew and Damian, and Owen and Scott, are also on the roster. The runners-up from Season 3 are eager to atone.
Damian and Andrew believe they were wrongfully denied the championship. The crew is prepared to contribute their finest work because they have new ideas and approaches.
This year, Ryan and Gabby, who finished third in Season 4, also are among the recognizable names.
Lego Masters Grand Masters Prize Money
With a chance to earn $100,000 and the title of the best LEGO building team in LEGO Masters history, our teams compete against one another. Eight teams will compete against one another for the $100,000 first-place award and the title of Australia's Next LEGO Master.
The expectations
This year's tasks are more difficult than ever, putting each contestant's abilities to the ultimate test. A rocket is launched into the sky, and there are LEGO planets dangling high above the ground and an exciting cinematic mayhem sequence with motors and explosives.
Moreover, Sophie Monk, Dr Karl Kruszelnicki, and Mickey Mouse will make special guest appearances to honor 100 years of Disney storytelling.
The champions and best teams from past seasons, together with a new wildcard pair, will compete against one another this season.
According to the Nine Network, the exclusive group of Lego builders will be tested by the hardest tasks ever, as well as brand-new twists and turns.
McNaught said: "Being "Grand Masters," the expectation is already there. They know they must bring something new and exciting beyond their best, something we've never seen before, and they sure do."
Blake added: "To be invited back this season for "Grand Masters," I think really solidifies me as the best host that has ever hosted "Lego Masters Australia," and that is a huge honor."
Lego Masters Grand Masters On Air Timing
The first episode of LEGO Masters will air on Channel 9 and 9Now on Monday, April 10, at 7:30. Easter Monday will see the debut of "Lego Masters Grand Masters," competing with "Farmer Wants a Wife" and the second week of "I'm a Celebrity, Get Me Out of Here" premieres.
The family-friendly program, presented by Hamish Blake and features Ryan "Brickman" McNaught as a judge, is set to return with a banging fifth season.
FAQs-
Q. How to watch Au Lego Masters Grand Masters Season 5?
A. You can enjoy a seamless entertainment experience with 9Now at home, on the way to work, or in front of your computer.
On your phone, tablet, computer, or TV, you can easily watch all the episodes of Lego Masters season 5 streaming from April 10th.
Q. Will Australia's Lego Masters Grand Masters Return in 2024?
A. Lego Masters is set to entertain its audiences with a thrilling season 5 set to debut on April 10th, 2024, and the fans are sure to get some amazing views. It's a little early to say anything about 2024, but let's not lose hope.