MASTERCHEF AUSTRALIA SEASON 16 – MasterChef Australia is an Australian cooking reality show and competition. Screening on Network 10, this show is produced by Endemol Shine Australia.
MasterChef Australia is a part of the global MasterChef franchise. Since the premiere of MasterChef Australia, this show has completed 15 seasons.
Today, television is filled with numerous talent shows showcasing talents such as music, dance, singing, etc., but MasterChef is the only competitive talent show which showcases cooking talent.
MasterChef Australia is a podium where amateur home cooks are given a chance to showcase their talent and a special love for creating extraordinary food.
Progressing through the contest, the amateur home cooks are subjected to go through a series of challenges as per the show's format and they are judged based on their performance. The appointed judges are acclaimed chefs and food critics and they are none other than Andy Allen, Melissa Leong, and Jock Zonfrillo.
The format of MasterChef Australia differs from that of the original British MasterChef. The contest starts with the audition rounds where huge numbers of amateur home cooks from across Australia take part, out of which only 24 participants progress to the show's main stage, i.e., the MasterChef Kitchen.
In the MasterChef kitchen, the contestants are subjected to numerous individual and team cooking challenges and are judged on the parameters which are needed to become a MasterChef.
During their MasterChef Journey, they get an opportunity to meet and learn from acclaimed chefs from around the world and enhance their cooking skills.
The winner of each season is awarded a handsome cash prize of a whopping $250,000, a chance to publish their cookbook, and chef training from a leading professional chef.
If you have a passion for creating new food and want the world around you to know about your cooking talent, then there is no better platform than MasterChef Australia Season 16.
How to Apply/Register for MasterChef Australia 2024?
MasterChef Australia applications 2024 will be accepted only through their official website https://10play.com.au/masterchef. The following steps are to be followed for MasterChef Australia 2024 registration:
All participants are requested to visit the official website https://10play.com.au/masterchef to fill out the application form and click on the registration link given at the site.
The participant needs to fill in all the necessary details such as name, date of birth, contact details, e-mail address, and address.
Participants need to submit a photo of themselves along with the pictures of the last three dishes prepared by them.
The participants also need to create a 1-3 minute video to showcase his/her ability in the kitchen. In this video, they also need to introduce themselves and tell what cooking means to them. This video needs to be submitted along with the form and it should be in the format stated on the website. Though submitting a video is not necessary, it is encouraged to submit one.
Read all the official Terms and Conditions carefully before submitting the application form.
After the submission of the form, all participants are required to take a printout of the submitted application form.
Eligibility Criteria for MasterChef Australia 2024
The following eligibility criteria need to be met for participation in MasterChef Australia 2024
The participant should be 18 years of age as of October 2022.
The participant should be an Australian Citizen or a legal permanent resident of Australia.
The participant must be an amateur cook.
The participants cannot have any formal tertiary or other professional cooking qualifications acquired in the last 10 years.
The participant should be physically and mentally fit to face the challenges of the show. To prove the same, the participant needs to submit a physical and psychological fitness form which is duly conducted by a medical professional selected by the producer.
The participant's main source of income currently should not come from working as a chef in a professional form and cannot be a pra professional cook.
During the contest, the participants must be willing to travel to any part of Australia on any date given.
The participant should not have a criminal record in his/her name. They need to gipermithe producers to do a background check as deemed necessary by them.
Anyone related to the directors, employees, officers, or their immediate family members, and anyone affiliated with the production house is not eligible to participate in the MasterChef Australia process.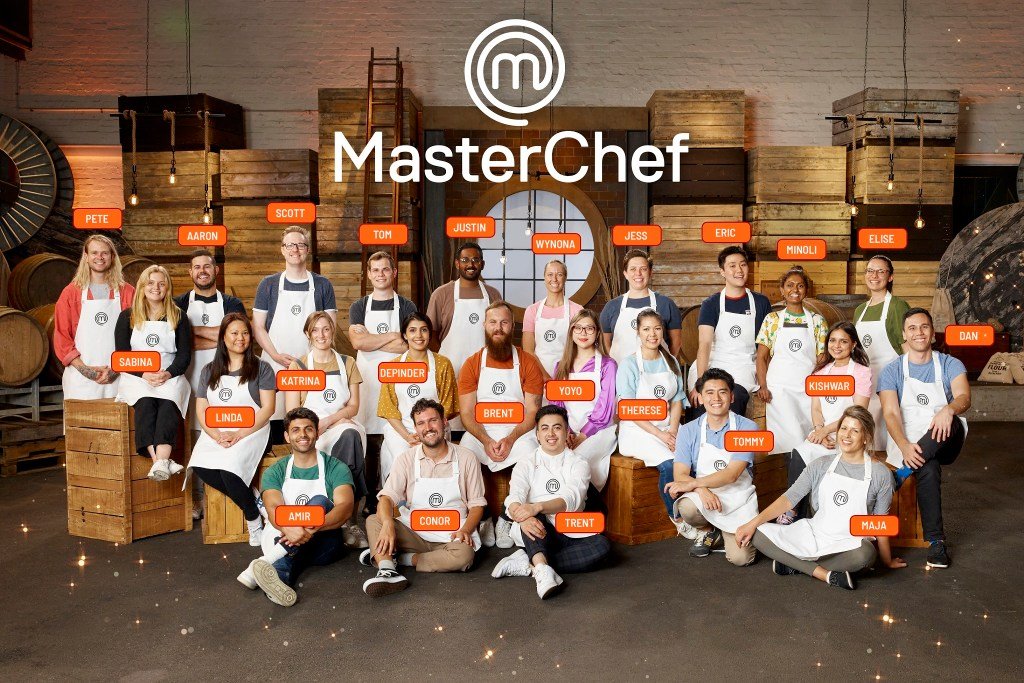 MasterChef Australia Audition 2024
The audition for MasterChef Australia 2024 is the foremost step in the whole journey of becoming a MasterChef.  This involves the selection of the best few home cooks out of all the registrations received.
After rigorously scrutinizing each of them, they select the best few who will then continue forward in their quest to becoming MasterChef Australia.
The producers then contact these selected participants and interview them. This interview then decides who will move forward to the audition round.
Pre-Registration of MasterChef Australia 2024
Pre-registration of your profile and selecting your open call venue/location in advance is greatly advised and encouraged. All the information and details about the pre-registration process are available on the official website https://10play.com.au/masterchef. After successful completion of the pre-registration process, it is advised to attend an open call. To attend an open call the following things are essential:
A fully completed application.
A dish that has been prepared by you has the capability of impressing the judges.
MasterChef Australia 2024 Judges
The esteemed judges of MasterChef Australia 2024 are superbly talented and have attained this position because of their knowledge and experience in culinary art:
Andy Allen is the winner of the fourth season of MasterChef Australia in 2012 and is an Australian chef. He is a co-owner of Three Blue Ducks restaurant, which is in five locations in Australia.
Melissa Leong, who is the second judge, is a freelance food writer and critic, cookbook editor and marketer, radio broadcaster, and an Australian TV host. She has been the judge of MasterChef Australia since 2020. The show's third judge is Jock Zonfrillo.
He was a former chef and a Scottish TV presenter. He was the owner of Restaurant Orana and Bistro Blackwood. The Good Food Guide awarded Restaurant Orana with the Restaurant of the Year award. Since 2020, Jock Zonfrillo has been the judge of MasterChef Australia.
How to Watch Online MasterChef Australia
All seasons of MasterChef Australia can be viewed online on their official website. Streaming of episodes is also available on Tubi TV and Hotstar. It can also be viewed on the Apple TV app.
Latest News & Updates for MasterChef Australia Season 16
MasterChef Australia 2024 Casting Audition Open Call – Audition is started now visit the official site and apply Now. This show is produced by Shine Australia & Screens on Network 10. The contestant  MasterChef Australia 2024 is To apply.
MasterChef Australia 2024 Release/Premiere Date
There will be a brand new season on Australian screens very soon! Producers have announced that the 2024 season will debut on May at 7:30 PM on 10 and 10 Play. There is a good reason for the new season being shorter than the standard two-month airing period.
As you may be aware, MasterChef Australia has been renewed by Network Ten for a 16th season. On May 2024, Network Ten will debut the first episode of MasterChef Australia.
FAQ for MasterChef Australia
Here's wishing you the best of luck!