A British version of Next Level Chef is now available to continue the legacy of one of the most intense cooking programs in the US.
In the competition, contestants compete on various levels of a three-story kitchen to win over judges Gordon Ramsay, Paul Ainsworth, and Nyesha Arrington.
Here is everything you should know about Next Level Chef UK, which is a spinoff of the American television program Next Level Chef.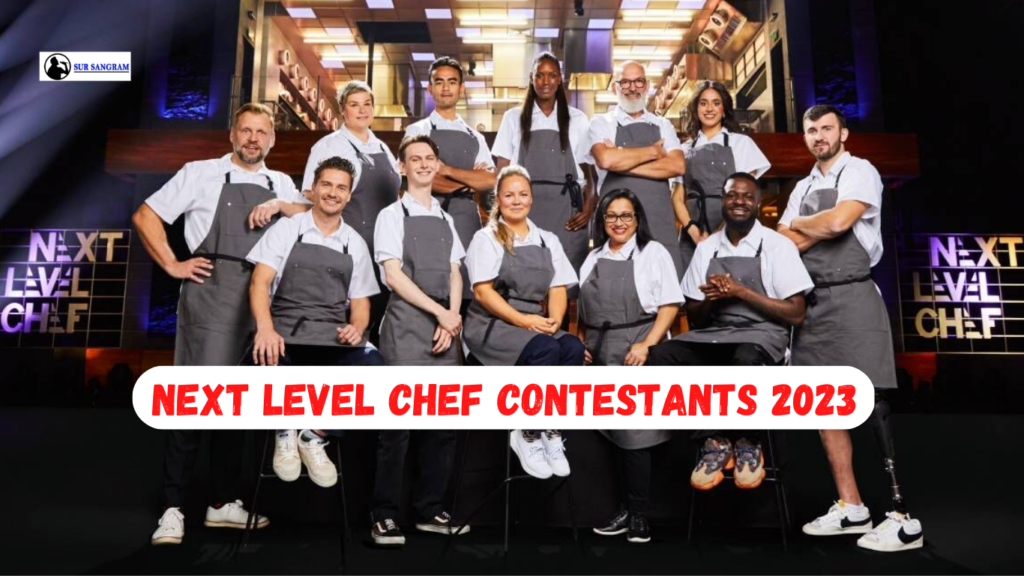 When does Next Level Chef UK 2023 begin?
On Wednesday, January 11, 2023, the eight-part series premiered in the UK on the ITV1 channel. Currently, the show airs every Wednesday at 9 p.m. in the same time slot and is also streamable on ITVX.
How does Next Level Chef UK Show work?
Twelve competitors compete in a massive kitchen with three levels: a basement with basic appliances, a middle floor with typical appliances, and a top level with expensive kitchenware.
For the prize money in this show, the competitors compete against one another. Along with a hefty £100,000 award, the victorious contestant will also receive a year of mentorship from the judges.
The twelve contestants are divided into three teams with a mentor each. The team must prepare the dish of the week, and the team with the best performance gets to use the top kitchen layer the following time.
The cooks who did the worst must participate in a cook-off, and the loser is sent home. The cook-winners off will be delivered to the basement kitchen.
Next Level Chef Cast Line-Up UK
In Next Level Chef UK 2023, there are 12 competitors. The three contestant teams are mentored by three judges. The judges' seats are occupied by Gordon Ramsay, Paul Ainsworth, and Nyesha Arrington, who serve as the competitors' mentors.
The Next Level Chef UK Cast Line-Up for 2023 features these three as its most promising members. Each mentor/judge is a well-known figure in the culinary industry who has made a name for themselves.
Next Level Chef Contestants List 2023
Contestants for The Next Level Chef UK 2023 have been chosen from social media, models, or regular people. The only prerequisite for the candidates was that they should have some experience in the kitchen. In the Next Level Chef UK 2023 series, there are 12 competitors. Let's find out a little bit more about each of these Next Level Chef UK 2023 contestants.
Temi Abdullahi: Temi Abdullahi is a 27-year-old Londoner who gained fame as a cook on social media. Temi has over 30,000 Instagram followers who adore his food-related posts. Temi can be found on Instagram under the handle @temityskitchen.
Ronan Lee: A chef from London, Ronan is 25 years old. He is another chef who appears on the program. His Instagram is filled with a ton of food-related posts. His account is @ronanleefoodie, which one can follow.
Jade Greenhalgh: Chef Jade Greenhalgh, 34, is from Ormskirk in Lancashire. She is a mother and food blogger who also wants to win over the judges. Jade can be found on Instagram under the handle @JG.KITCHEN.
Selwyn Channon: The 63-year-old Selwyn Channon is from Lympsham, Somerset. He served in the army as a professional chef. Selwyn will no doubt have the endurance necessary for this competition!
Tia Khurana: Tia Khurana is a 50-year-old native of Birmingham. She blogs and cooks at home, frequently posting her delectable dishes. One can follow Tia @tiasbengalikitchen on Instagram to see her dishes.
Toby Caswell-Jones: A 22-year-old chef from Liverpool, Toby Caswell-Jones. He is a sous chef who works in a restaurant. On Instagram, Toby is accessible at @chef.tcj.
Kelly Hunter: From Essex town of Dunmow is Kelly Hunter who is aged 45. She was a former professional chef but has lately been concentrating more on cooking at home. It will be fascinating to see Kelly return to a professional kitchen in this competition!
Gurpreet Bains: Gurpreet Bains, 25, lives in Gravesend, Kent. She recently graduated from the renowned Le Cordon Bleu cooking school and works as a Demi chef de Partie. Gurpreet's Instagram handle is @gurpreetbains97.
Tony Maloy: Tony Maloy is a 40-year-old native of Theddingworth, Leicestershire. He is a professional chef on a superyacht. Additionally, Tony established The Galley, a restaurant in which he serves as the Head Chef.
Callum Deboys: A 26-year-old Callum Deboys is a native of Prestwick, Scotland. Apart from being a great chef, he is a Paralympian! Callum participated in the Beijing 2022 Paralympics and was a member of the first-ever cross-country open relay squad for ParalympicsGB. He had his left leg amputated above the knee as a consequence of a major motorbike traffic accident. Prior to his accident, Callum worked as a chef, and as Next Level Chef, he will return to the professional kitchen.
Layla Powell: Model and event manager Layla Powell, 41, is from London. Additionally, she is a trained private chef whose cuisine is influenced by her heritage in the Caribbean and North Africa. Layla's username on Instagram is @laylaypowell where she can be followed.
Ian 'Gold' Golding: From Kings Langley in Hertfordshire, Ian is 50 years old. Ian is one of the home cooks competing on Next Level Chef UK 2023, where chefs of all skill levels are aiming to win over Gordon Ramsay and the other judges.
Who are the stars of Next Level Chef?
Next Level Chef contestants – Three teams of 12 contestants take turns taking the stage on one of the three floors.
| | | | | |
| --- | --- | --- | --- | --- |
| S.N | Name | Age | From | Profession |
| 1 | Gurpreet | 25 | Gravesend, Kent | Restaurant Demi Chef de Partie |
| 2 | Jade | 34 | Near Ormskirk, Lancashire | Social media cook |
| 3 | Kelly | 45 | Dunmow, Essex | Home Cook and ex-pro |
| 4 | Layla | 41 | London | Events Caterer |
| 5 | Callum | 26 | Prestwick, Scotland | Ex-chef and Paralympian |
| 6 | Tia | 50 | Birmingham | Home Cook |
| 7 | Gold | 50 | Kings Langley, Hertfordshire | Home Cook |
| 8 | Toby | 22 | Liverpool | Restaurant Sous Chef |
| 9 | Ronan | 25 | London | Home Cook |
| 10 | Selwyn | 63 | Lympsham, Somerset | Private Chef |
| 11 | Temi | 27 | London | Social media chef |
| 12 | Tony | 40 | Theddingworth, Leicestershire | Superyacht chef |
Next Level Chef Judges
In addition to the competitors, there are the judges, who are presided over by renowned, award-winning chef and television personality Gordon Ramsay.
He is joined by Nyesha Arrington, the breakout star of Next Level Chef US, and Paul Ainsworth, a Michelin-starred chef and former Gordon's protege.
Gordon Ramsay: Chef and television celebrity Gordon Ramsay has hosted several cookery programs like Hell's Kitchen, Ramsay's Kitchen Nightmares, and US MasterChef.
Read More – Gordon Ramsay wiki, Net worth & Family
He is one of the world's top chefs. He started the Gordon Ramsay Restaurants Group. In his career as a chef, he received 17 Michelin stars.
Paul Ainsworth: British chef Paul Ainsworth hails from Southampton, England. He is the chef-patron at Paul Ainsworth at Number 6 in Padstow, Cornwall, which received four AA Rosettes and a Michelin star in 2013.
Before participating in the 2011 season of the Great British Menu, he worked for Gordon Ramsay. Paul has participated in and served as a judge on Saturday Kitchen, MasterChef, and Great British Menu.
Nyesha Arrington: Born in Southern California in 1981, Nyesha Arrington is an American chef, television personality, activist, and businesswoman.
Joel Robuchon hired her to work in one of his restaurants in Las Vegas. She entered TV competitions like Top Chef and Chef Hunter.
Next Level Chef Host
Along with being one of the executive producers of the show Next Level Chef, Gordon Ramsay will also be presenting/hosting the UK series of Next Level Chef UK 2023. He is also one of the mentors alongside Paul Ainsworth and Nyesha Arrington.
Ramsay's on-screen persona is characterized by his candor, ferocious temper, severe manner, and frequent use of expletives. He integrates his work in the hotel, cuisine, film, and television industries.
He has promoted and employed several cooks who were under his guidance as apprentices. He is well known for hosting television shows about competitive cooking and eating, like The F Word and Ramsay's Kitchen Nightmares, to mention a few.
Gordon Ramsay Goes Behind the Scenes on Next-Level Chef
FAQs-
Q. How long is the Next Level Chef finale?
A. The finale requires 90 minutes to cook three dishes, one per level.
Q. When is the final date of the next level chef UK?
A. There is no official information regarding the finale date yet, I will update you As soon as it is Announced.