Top Honeymoon Destinations in the USA –
Traveling has become a little hectic with ongoing Covid-19 restrictions and lots of tiring procedures to land in another country. Due to this and several other reasons, couples stay in or look for the best honeymoon destinations in their homeland. Of course, for some, their honeymoon travel plan has already been ruined because of the pandemic.
Still, some are deliberately opting for a domestic honeymoon as it saves money, which is a beneficial step in between inflation. Regardless, few couples are so tired of their wedding plans and all the later commotions that they're now looking for an easier and more achievable destination that can give them peace of mind.
Apart from this, other couples have already wandered around the beautiful locations together and want to try out fun destinations in the U.S. There could be unlimited reasons to choose to go for a domestic honeymoon.
And all these couples want is a cozy, peaceful destination that can offer them a place to spend their best time with each other. Easing your search, here are the Top 5 absolute best honeymoon destinations in the U.S. that will fill you with romance and adventure and give you the perfect environment you need together.
Top Honeymoon Destinations in the USA
First of all, congratulations! This is such an exciting time for you and your loved ones! Honeymoon planning is easily one of the most exciting and fun parts of wedding planning in general!
The best honeymoon spots in the USA, this list is designed to help you narrow down your options to create the perfect USA honeymoon that will be unforgettable.
Without further ado, let's break down the Top Honeymoon Destinations in the USA that you should book ASAP!
1. The Hamptons, New York
A blissful seaside destination filled with the aroma of romance all over the place. It's a popular honeymoon destination among couples. If you're also tired of the city's stressful life and want to get away from hustling and bustling life for a bare moment, the Hamptons will serve you right.
Let yourself and your spouse fall into the romance land and enjoy the extravagant Hampton's first wellness resort, Shou Sugi Ban House. It's a Japanese- inspired locality that offers a healthy and serene environment to rest your tired soul. In Southampton, you and your spouse can enjoy 13 picturesque cottages on your honeymoon visit.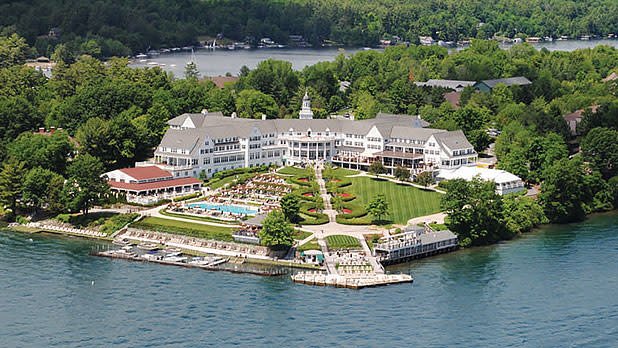 2. Castle Hot Springs
What destination would be best for a couple than a secluded location with ginormous alfresco bathtubs, blissful farm-to-table five-course meals, and a beautiful view? These delightful places you can experience at Castle Hot Springs. A romantic and adventurous location for your lovely honeymoon.
Castle Hot Springs stands for its name and offers the best experience to newlywed couples. The place has three amazing hot springs, ranging from 105 to 120 degrees Fahrenheit, and is known as the hottest natural hot spring in the world.
It stands on 11,000acre property, which offers a stay for more than 66 guests at a time. You can experience the immaculate beauty of indoor and outdoor fireplaces and your favorite coffee, followed by a full-course meal during your stay. All of this is prepared organically from their farm and greenhouse produce.
Moreover, couples who want to spice up their stay and love adventures can sign up for harnessed rock climbing and Arizona desert cliffs, all inspired by alpine climbing in Europe.
3. Ogunquit, Maine
An essential honeymooner's spot spotted with seafood, wilderness, and delightful views of the Atlantic Ocean. This all claims Maine as the best vacation spot for anyone, especially honeymoon couples. Here at Ogunquit, couples can witness the beautiful sunrise over the Atlantic and the lobster rolls that will kickstart your romance.
Also, don't forget to gobble up some chowder at Lobster Shack in Perkins Cove. You can get home vibes and have some snuggling moments with your spouse under the Atlantic weather. Strolling around Marginal way, a waterfront path, or reserve a week to pamper yourself at Cliff House Maine, a seaside retreat on the southern coast. Also known for The Spa at Cliff House's services give you healing treatments.
4. Nashville, Tennessee
Nashville, Tennessee, is a hearty destination for couples dipped in food, music, art, and mostly culture. Have multiple fun-loving experiences and witness the architectural elements on the way.
The destination is popular for its Parthenon, heavily inspired by the original Athens structure. The essence of music comes from the shops on Music Row and does not leave the delicacy of a barbeque from Martin's.
Along with its scenic and romantic view that will add to your honeymoon experience, you can enjoy an extraordinary stay at its top-notch accommodations. The Thompson Nashville penthouse suite offers mid-century modernistic decor and dreamy titanium bathtubs that will elevate your staying experience.
5. Charleston, South Carolina
Lastly comes the Instagram-worthy destination, Charleston in South Carolina. This southern city has much to do with your childhood fantasies and the nostalgia it brings back because of its pastel-colored monumental city structure. Suitably couples choosing this as their honeymoon destination will not disappoint them.
Stroll hand in hand through White Point Garden or Waterfront Park, or go out together on Charleston Harbor and witness the sunset with your love. Stay at Belmond Charleston Place and relish The Spa in the evening. If you love to go out and meet new people, visit the Lowcountry fare at the Charleston Grill while also grooving on live Southern jazz. A complete encounter of beautiful events and local events with your spouse.
Overall, several other destinations in the U.S. will offer you a memorable honeymoon experience. No matter the reason for your domestic honeymoon, make this experience a truly unforgettable event with your loved one.
Most Searches on google for Honeymoon Destinations for the USA.
Top Honeymoon Destinations in the USA
Private island for honeymoon in the USA
Best honeymoon destinations in North America
Best beach honeymoon destinations in the USA
Best honeymoon destinations on a budget
Travel and Leisure best honeymoon Destinations
Best places to visit in summer in the USA